Drywall Repair in Enterprise, Florida
Florida homes often experience issues with drywall. Some common problems Fellman Painting & Waterproofing frequently finds with drywall in Enterprise homes include water damage, mold growth, and cracks due to settling or shifting of the foundation. Humidity and moisture tend to be frequent problems in Florida. Fellman Painting & Waterproofing's expert drywall repair service can seamlessly fix drywall in Enterprise.
---
Call for a Free Quote
---
Experienced Drywall Repair in Enterprise Since 1980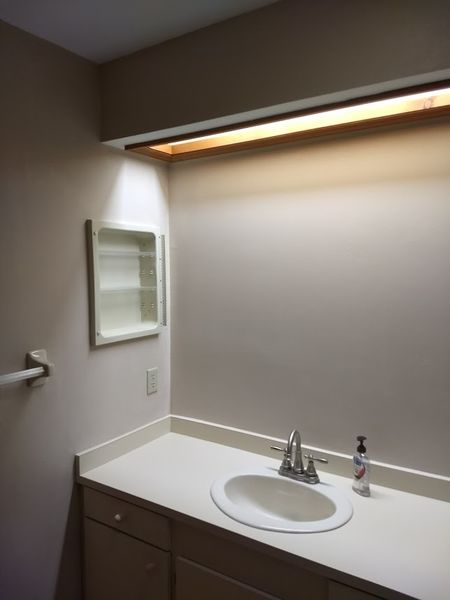 Both natural and man-made problems happen with drywall, and Fellman Painting & Waterproofing is experienced with handling both!
Humidity and moisture cause damage to interior walls in Enterprise homes. This is a frequent problem throughout Florida, but one that Fellman Painting & Waterproofing can expertly address. Humid climates can cause the drywall to warp, bubble, or deteriorate over time.
Properly repairing drywall requires a careful and methodical approach. Fellman Painting & Waterproofing follows these steps in repairing drywall:
Assess the damage: Before making any repairs, we assess the extent of the damage and determine the best approach for repairing it.

Remove any damaged drywall: If there is significant damage, Fellman Painting & Waterproofing will cut away the damaged drywall using a utility knife or drywall saw.

Install new drywall: After we have removed damaged drywall, we will install new drywall in its place. We carefully measure the size of the damaged area and cut a piece of drywall to fit.

Secure the new drywall: Once the new drywall is in place, Fellman Painting & Waterproofing secures it to the existing framing using screws or nails.

Tape and mud the seams: To create a smooth, seamless finish, we generally apply joint tape and joint compound to the seams between the new drywall and the existing wall. This will help to hide the seams and create a smooth, even surface.

Sand and finish: Once the joint compound is dry, it will be sanded smooth and a final coat of joint compound is applied. Once this coat is dry, we sand it again to create a smooth, even finish.

Prime and paint: Finally, your newly repaired drywall is ready to be primed and painted to match the surrounding wall. Fellman Painting & Waterproofing's skilled painters will apply paint to match or repaint the entire wall to your specifications.
Affordable Enterprise Drywall Repair
Competitively priced to fit any budget, Fellman Painting & Waterproofing's drywall repair services are accessible to most. Fellman Painting & Waterproofing offers affordable prices and quality workmanship. Discover how affordable Fellman Painting & Waterproofing's Enterprise drywall repair service is by calling (386) 597-0645 for a free assessment and written estimate.
If you are wondering if you can afford to have Fellman Painting & Waterproofing repair your Enterprise drywall, you might also ask whether you can afford not to! Drywall repair can be a time-consuming and messy process, and it may be best to hire Fellman Painting & Waterproofing if you are not experienced in this type of work you may spend much more in the long run if you purchase all of the supplies and attempt the job and are then unhappy with your results. Additionally, if you are dealing with water damage or mold growth, it is important to address these issues promptly to prevent further damage or health risks.
Like-New Enterprise Drywall
Fellman Painting & Waterproofing stands by its drywall repair services. We know that you will be satisfied with the flawless results of your drywall repair project, but if for any reason you are not, we'll be happy to come back in and make the necessary changes to win your approval. The job will be done to your specifications and Fellman Painting & Waterproofing's team always goes the extra mile to make sure you are very pleased with your newly repaired drywall.
---
Call for FREE Drywall Repair Quote
Dial Area Code first please.
---
WHAT CUSTOMERS ARE SAYING:
5★★★★★ - "We have been working with Robert from Fellman Painting for over 10 years on a professional level. He is the most dependable painter I know. Highly recommend working with him."

Diane

2021-09-24

5★★★★★ - "Rob Fellman painted my house and did extensive ceiling repairs on my front and back porches. He tended to my house as though it were his own. Very meticulous, very thorough, and very professional"

Julie Miller in DeLand, FL

2019-05-31

5★★★★★ - "We've worked with Robert at Fellman Painting for years. He is dependable and professional. Highly recommend him!"

Diane, Painting in Edgewater, FL

2017-02-10

5 ★★★★★ - " Fellman Painting has the highest quality and affordable rates. He is very professional and knows his business and would highly recommend them to everyone."

Gary in New Smyrna Beach, FL

2012-08-02 13:11:44

5 ★★★★★ - " Have known Robert Fellman all my life. It started out as a family business and Robert branched out on his own and has a huge list of clientel. He is very reliable, trustworthy and dependable, and he is also able to do much more than just painting."

Norm, Compu Com - Orlando, FL

2012-07-27 13:06:27

5 ★★★★★ - " Great painter. Always on time, give him every praise possible in the world. Could not have asked for a better painter."

Mark, Seaside Home Repairs in New Smyrna, FL

2012-07-25 13:52:08

5 ★★★★★ - " Robert does excellent work, superior and makes sure that everything is to perfection before leaving the jobsite. Highly recommend him to everyone."

Gary, Edgewater Landings, Edgewater, FL

2012-07-25 13:50:41
---
Call for FREE Drywall Repair Quote
Dial Area Code first please.
---